Paper Tree Gift Boxes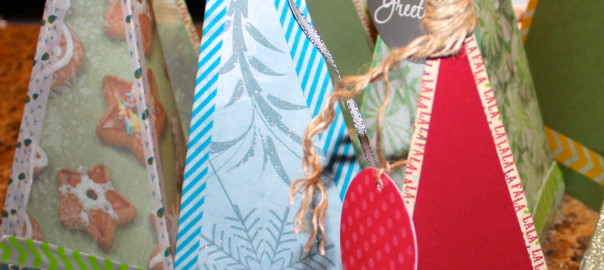 Paper trees, trees, trees again……ok, I get it, I guess it might be getting a bit redundant.  But in our defense we needed a cute Christmas gift to fill with treats for friends, neighbors, teachers, etc. and I found these cute ones made from cardstock in Better Homes and Garden Magazine (click here) so we couldn't resist attempting for our next "Try It Tuesday" craft.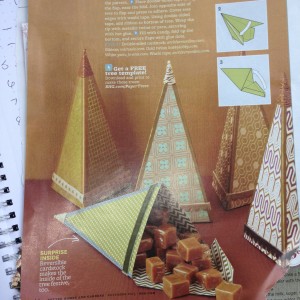 Christmas was getting close, tick tock, tick tock, if you know what I mean, and we had a long list of people to be thankful for.
The template was easy to print out and we ended up enlarging it by 20% to make the tree boxes bigger and use more of the card stock.
Even though Tabitha and I were gabbing and sometimes interrupted for snacks or to referee a quarrel, we were both able to complete two trees and cut out the templates for about eight more before our two hours were up. Not bad we didn't think for homemade Christmas gifts.
Instructions are on the printout, but it's really as easy as:
Cutting out the template, taping it together, tracing it onto cardstock of your choice, cutting it out, folding along the lines of the cutout, and then decorating as you choose.
Multiple that times about twenty and I could call it a day 🙂
Here are the materials we used:
Scissors, clear tape, double-sided tape,  washi tape, string or twine, embellishments, ruler (or a bone folder, but I didn't want to pay $6 for that) cardstock, and some sort of adhesive to hold the bottom flaps closed.  The article recommended adhesive glue dots, but we found those weren't strong enough so we ended up using both that and a couple of scrapbooking adhesive dots in order to keep them closed.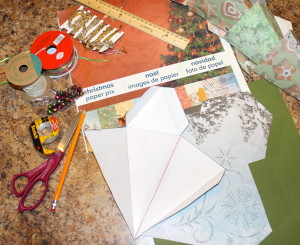 The trees ended up cool because we could be creative and decorate however we wanted.  The kids could even help.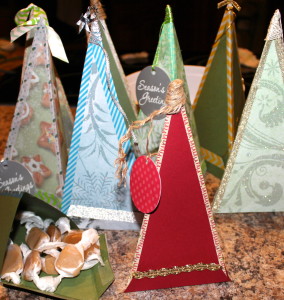 Note: The heavier the cardstock used, the more embellishments you can add.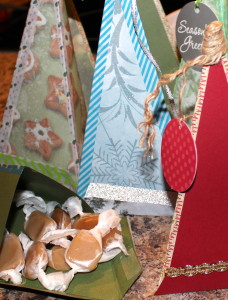 At the same time, we decided to try out a Microwave Caramel Recipe from Six Sisters.  It was delicious.  I ended up adjusting the recipe a little bit and adapted one called Microwave Sea Salt Caramel Recipe.  See here for the recipe.
I used caramels and some chocolates to fill up my tree boxes.  The boxes ended holding about 12-15 caramels.  I then used a gift tag with fancy string to add a gift card to some of my trees.
Tabitha ended up filling her trees with some candy and adding them to a basket of other small treats that she passed out.
In the end, we got all of our gifts passed out and hopefully people enjoyed their treats.  I know it's a good thing my husband doesn't really like caramel (I know, weirdo), so I don't really have an excuse to make those delicious candies all the time…………..or I might just be in trouble.
See ya next Tuesday,
Summer and Tabitha