DIY Rustic Twig Garland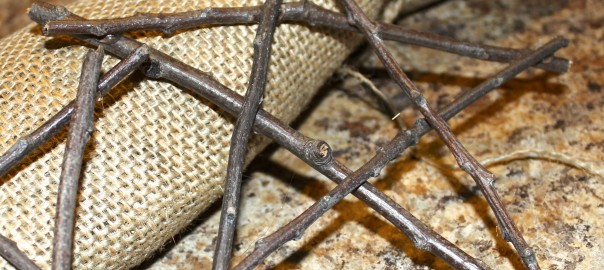 Once I fall in love with something, an idea, food, whatever, I tend to obssess over it for a while.  I have recently found this to be true with the idea of making decorations using twigs.
I was really happy with how my Rustic Fall Twig and Flowers Wreath turned out and immediately began to think how I could use twigs to decorate for Christmas.
I decided that stars would be an easy shape to make and got to work collecting twigs on my next trip to the park with the kids.
Once I had a bucketful of twigs and some free time (ha, ha, which comes around 10pm every night, yawn….yawn), I got started.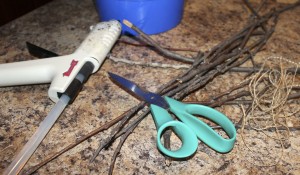 I broke/cut five twigs to be approximately 6 inches long and laid out the first star.  I wanted them to be sturdy…….because I knew that whether they ended up on the tree or as part of a garland that "The Destroyer" would eventually get her hands on them.
I used my trusty old glue gun to put a small dab of glue on each point where the twigs came together, basically five dabs of glue.  Here's what my first couple looked like.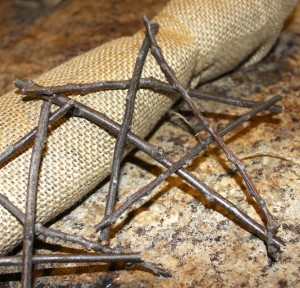 I just kept on going until I was out of twigs.   I think I ended up with about twenty stars, probably excessive, but excessive is my middle name!
Then I wrapped each of the points with some left over burlap twine that I had lying around. This made the project take a little longer, but I liked the way they looked in the end.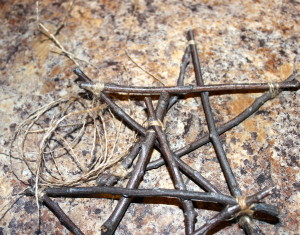 Stars finished, now where to hang them????
For my mantel, I decided to hot glue them to some jute and added a little burlap tied with a bell (from the dollar store) as an embellishment between the stars.  Next year, I think I'll add some lights.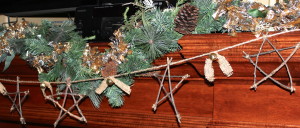 Since I still had some more stars left over, I spray painted what was left gold and hung them from the wire wall decor in the living room with some pinecone bunches.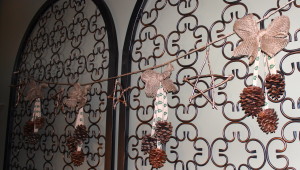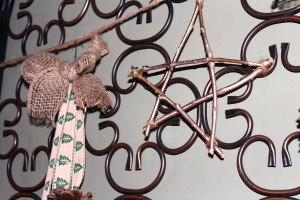 Easy cheesy! I'm sure I'll change these up some how next year…..I'm already thinking of wrapping them around the tree instead of ribbon. Not sure, but I guess I have a lot of time to think about it.  For now my Twig Garland is complete!
Catch you later,
Summer