Microwave Sea Salt Caramel Recipe
I've always be a little hesitant to make my own candy. Lets be serious here for a moment (because sweets in general are a serious topic to me), candy making is a talent. People obviously know what they are doing, they do a good job, it's delicious, and I didn't want to mess with that "candy magic".
So, I figured I could tiptoe slowly into candyland with an easy recipe that uses the microwave.  Nothing too complicated, ingredients I already had in my pantry and this caramel recipe fit the bill.
The caramels were a hit! I think I even have a cavity to prove it.  Tabitha and I decided immediately that we could give them out as part of our holiday gifts (although we'd have to make more batches because I ate most of the first one).
The addition of the sea salt gives the caramels a perfect balance between salty and sweet.  I even tried a batch with some chocolate drizzled on top and they were delicious as well.
It's hard to mess these up (which I must admit I did manage to do when I forgot a key ingredient….the corn syrup)!
Microwave Sea Salt Caramel Recipe
Print recipe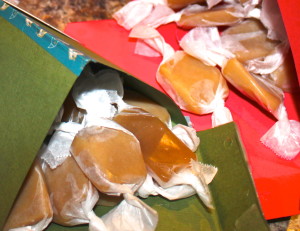 | | |
| --- | --- |
| Prep time | 30 minutes |
| Cook time | 6 minutes |
| Total time | 36 minutes |
| Meal type | Dessert |
| Misc | Pre-preparable |
These caramels are easy, fast, and delicious. The hardest part of the whole recipe is wrapping them up instead of eating them all. They are great during the holidays because they are quick and can be bundled and given as gifts.
Ingredients
1/4 cup butter
1 1/2 teaspoon sea salt
1/2 cup brown sugar
1/2 cup light caro syrup
1/2 cup granulated sugar
1/2 cup non-fat sweetened condensed milk
Note
The recipe yields anywhere from 15-30 caramels depending on the size of dish you want to use and how big you cut the caramels.  They are pretty rich, so I recommend cutting them smaller and getting more caramels.
This recipe was adapted from a Six Sisters Stuff caramel recipe  that I pinned from here.
Directions
Combine all ingredients in a microwaveable safe bowl.
Cook in the microwave for 2 minutes, remove and stir the caramel mixture. Cook for 2 more minutes, remove and stir again. Cook one more time for 1 minute and 45 seconds and remove from the microwave and stir.
When caramel is done cooking, pour into a 11"x7" pan sprayed with nonstick cooking spray. Sprinkle evenly with sea salt.
Let cool completely. Cut into pieces and roll up in wax paper.