Kids Height Measuring Stick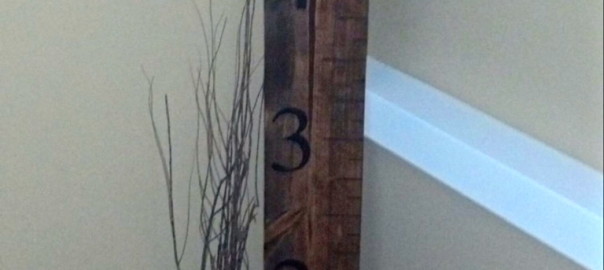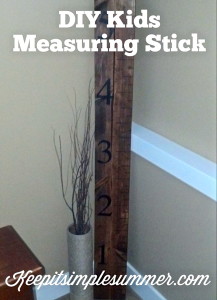 Here goes another "Try it Tuesday" and this time we are making something without following someone else's tutorial…….holy moly!
It all started when Tabitha was at Kirklands and saw the cutest measuring stick for the kiddos.  The price was $29.99 and she thought surely we could make something similar for less.
So…….she sent me the picture below and I headed to Lowe's in search of the wood that we needed.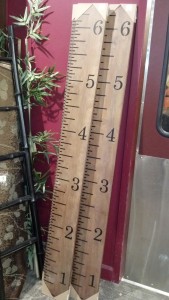 To start, I purchased two pieces of untreated pine measuring 1″x 8'x 8′.
Full Disclosure: this was actually after I bought two 1″x 8'x 6′ pieces of wood because we thought that we wouldn't need the wood to be longer than six feet.  I mean who really measures their kids when they are seniors in high school right?
But as we started to pencil in the measurement lines we realized that we weren't going to have any room to stencil the "6 ".  Soooo, that teeny mistake quickly ended our "Try it Tuesday" and I headed to Lowe's for a longer board).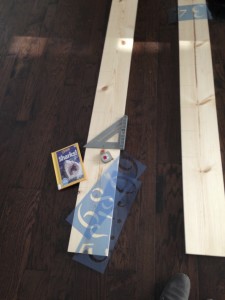 Next (the following week), we started to make our markings.
Initially we couldn't find a ruler so we improvised with Hayden's National Explorer Shark library book.  We really are losers sometimes, but then Tabitha's husband saw what we were doing and raised an eyebrow. I mentioned we needed a ruler and he brought us this handy dandy tool called a carpenters square (or a speed square, both names are odd since it is shaped like a triangle).
Who knew these fabulous tools existed??
Well probably a lot of people, but certainly not us!  What an awesome tool.  I highly recommend everyone get one of these as it made things go much quicker…..he he he.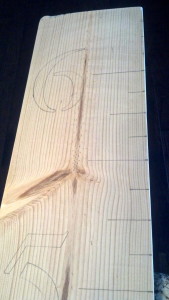 We started with the foot and half-foot marks because those were the same length (3 inches).
Then we added the stenciled numbers off to the left of the foot markings.
Next we did the 1/4′ and the 1/8′ markings.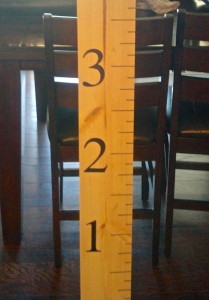 Once all the markings were done in pencil, we went over them with a Sharpie (actually I have to give props to Emma and Jenna here.  These neighbor girls did my lines and started coloring in my numbers while I watched kids jump on the bouncy house one day, thanks girls!).
Then Tabitha cut her board at the 6′ 5″ marking. I cut my at the 7′ foot mark because, you never know, the hubby and I are pretty tall.  You could get this done wherever you buy the wood, but we like to put our hubbies to work on the weekends.
We also sanded the boards (even over the permanent marker, front and back, with a 150 grade sand paper) in order to make sure we had a nice smooth looking board.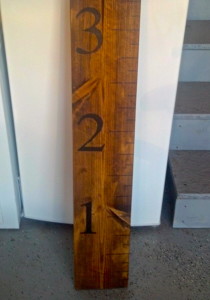 Finally, we stained the boards with Rustoleum Dark Walnut.  Since the pine was untreated it soaks up the stain really fast.  We had to wipe it very quickly so it wasn't too dark.
NOTE: Using gloves at this point would be really helpful.  We have both decided that we are tired of having dirty looking hands. It's kind of hard to tell our kids to wash their hands when we look like we haven't washed ours in a couple of weeks.
Once the stain dried, BOOM…..finished product.  We didn't use a clear coat because we wanted to be able to write the kids heights easily with a white or black marker.
Total cost & materials list (if you had to buy everything from scratch):
(2) pine boards – $9.98
Stencils – $5.99 (which Tabitha already had)
Permanent marker from Dollar Tree – $.99
Stain (already had) – $8.99
/ 2 = $12.98 a piece, but if you were only making one it would be about $20 bucks because you weren't splitting the cost of the stencils and stain like we did.  Better to find a friend to do this project with.
So what do you think?  I think this would look good done in white or another light color as well. Now, we just need to get the kids to stand still for a moment………
See ya next Tuesday,
Summer and Tabitha