Sugar Cookie Bars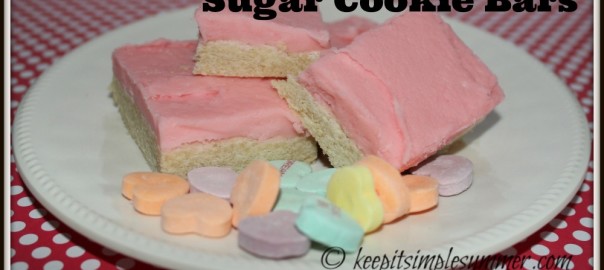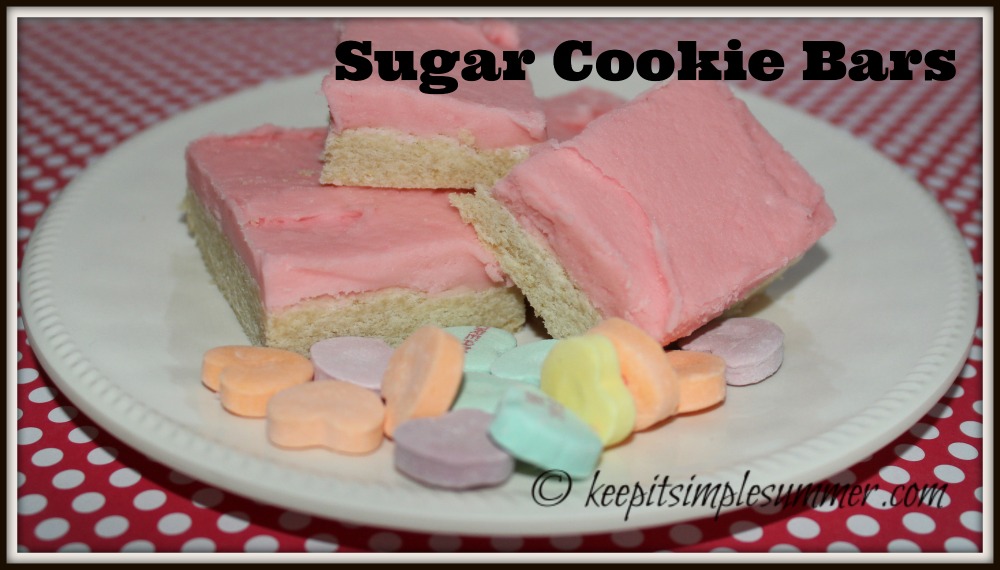 Have I mentioned I love sweets?
Sweets of all kinds?
All kinds of sweets but namely chocolate and frosting.  I really think that Buddy the Elf needs to add chocolate and frosting to his main food group list and then it would be perfect.
If you don't know what I'm talking about then I don't think we can be friends………….
Anyhoo, last week when the kids were snowed in they wanted me to make cookies and I let them pick which ones.  To my delight they picked these delicious babies:
That's right, Sugar Cookie Bars and they are soooo good and easy to make.   I am so thankful to High Heels & Grills for introducing me to this recipe.
These are my favorite sugar cookies to make for two reasons:
1) The cookie frosting ratio is 50/50 , AS IT SHOULD BE
2) There is no rolling pin, flour, or hour to clean up mess about them.  They are bars and super easy.
So, if you like a good sugar cookie like I do, make these ASAP!
You won't be sorry.
Oh yeah, and I guess you can let your family members have some too if you want.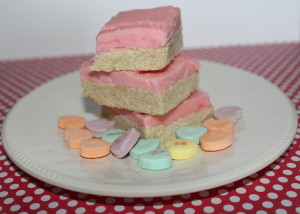 Easy Sugar Cookie Bars
Print recipe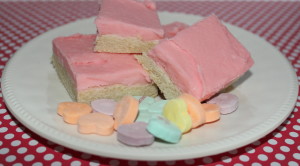 | | |
| --- | --- |
| Prep time | 15 minutes |
| Cook time | 20 minutes |
| Total time | 35 minutes |
| Meal type | Dessert |
| Website | High Heels and Grills |
Quick, easy, and delicious sugar cookie recipe without having to get out your rolling pin! Warning.......these might be addicting, so watch out.
Ingredients
2 1/2 cups all-purpose flour
1/2 teaspoon baking powder
1/2 teaspoon salt
1/2 cup butter, softened
1 cup granulated sugar
1 egg
1 1/2 heaped tablespoon sour cream
1 teaspoon vanilla extract
1/2 cup butter, softened
4 cups powdered sugar
1/4 cup half and half
1 teaspoon vanilla
1 pinch salt
food coloring (optional)
Note
These cookies have a 50/50 cookie to frosting ratio. If you don't like a lot of frosting, I would recommend you cut the frosting ingredients in half.
Directions
Preheat oven to 375 degrees Fahrenheit and grease a 9x13 inch baking dish.
In a medium bowl, combine flour, baking powder, and salt. Set aside.

In a large bowl, cream together butter and sugar until light and fluffy, about 3 minutes. (The longer you beat it, the fluffier your cookies will be.)
Add egg and combine well.
Add sour cream and vanilla and mix until completely blended.
Slowly add the flour mixture and stir until well combined.
Gently press the batter into the greased baking dish and spread out with hands. (If you butter your hands, this will help with the stickiness.)
Bake 15-18 minutes, or until edges become lightly golden. (Be careful not to overcook or bars can become slightly dry)
Set aside to cool completely.
In a medium bowl, cream together butter, powdered sugar, and half and half until light and fluffy.
Stir in vanilla and salt, combine well.
Add food coloring until desired color.
Frost your cooled cookie bars evenly.
Cut into squares, serve, and enjoy!