Banana Bread Bars with Brown Butter Frosting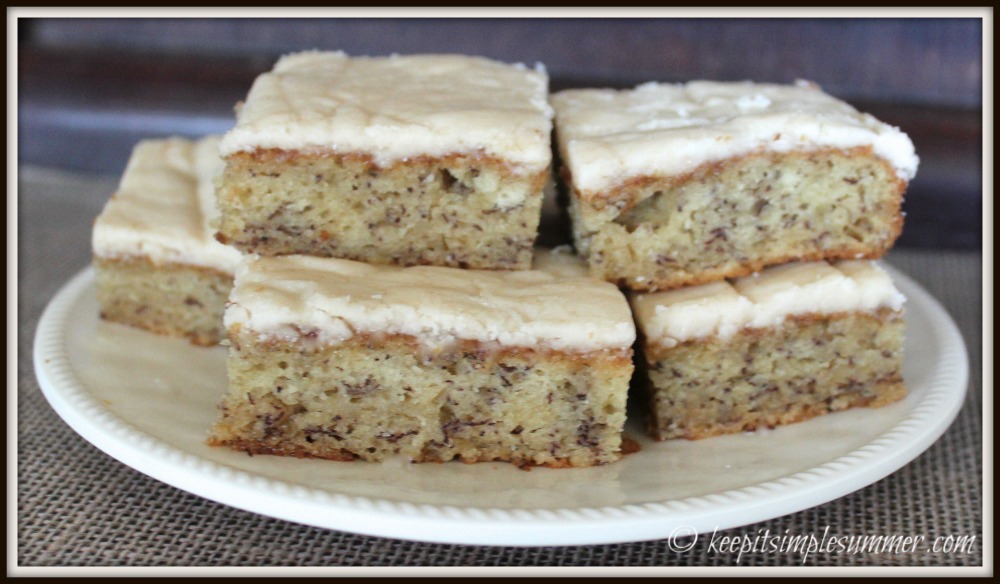 We go through banana waves at our house.
By this I mean some weeks there is whining because we are out of bananas and some weeks there is whining because nobody likes bananas and they sit on the counter all sad and lonely growing browner everyday.
I secretly love the weeks when the kids despise bananas (not the whining, I don't love the whining) because it means there will be extra bananas to bake with.
One of my favorite recipes is Banana Bread Bars with Brown Butter Frosting.  I found the recipe here on Life's Simple Measures.  It's basically banana bread with frosting on top.
Oh mamma, frosting on top of banana bread. Does it get any better?
Well maybe if you've never had brown butter frosting you can't understand just how yummy it really is.
I was new to the brown butter frosting sensation myself.  I like to say I bake, but really it's been mostly limited to simple cookies, cakes, etc.  I still have a lot to learn, thankfully.
While I have continued to broaden my frosting horizons, let me tell you this stuff is delicious and it goes perfect with banana bread.
You have to try it or your life won't be complete.
It just won't.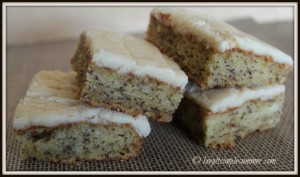 Banana Bread Bars with Brown Butter Frosting
Print recipe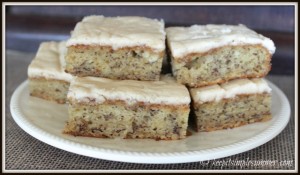 | | |
| --- | --- |
| Serves | 12 |
| Prep time | 10 minutes |
| Cook time | 25 minutes |
| Total time | 35 minutes |
| Meal type | Dessert |
| Website | Life's Simple Measures |
Simple and delicious banana bread bars topped with brown butter frosting pair to make a yummy treat everyone will love.
Ingredients
1 1/2 cup sugar
1 cup sour cream
1/2 cup butter
2 eggs
3 - 4 ripe bananas (mashed)
2 teaspoons vanilla extract
2 cups all purpose flour
1 teaspoon baking soda
3/4 teaspoons salt
1/2 cup chopped walnuts (optional)
1/2 cup butter
4 cups powdered sugar
1 1/2 teaspoon vanilla extract
3 tablespoons milk
Note
When browning the butter, pay close attention.  The butter will bubble and boil, but will change color quickly and when it does remove the pan from the stove immediately.  You don't want to have extra burnt butter.
Directions
Heat your oven to 375F and grease and flour a 15x10-inch jelly roll pan.
In a large bowl, beat together sugar, sour cream, butter, and eggs until creamy.
Blend in bananas and vanilla extract.
Add flour, baking soda, salt, and blend for 1 minute. Stir in walnuts (optional).
Spread batter evenly into pan. Bake 20 to 23 minutes or until golden brown.
Meanwhile, while the bars are baking, make the frosting.
To begin, heat butter in a large saucepan over medium heat until boiling. Let the butter turn a delicate brown and remove from heat immediately.
Add powdered sugar, vanilla extract and milk. Whisk together until smooth (it should be thicker than a glaze but thinner than frosting). Using a spatula, spread the brown butter frosting over the warm bars (the frosting will be easier to spread while the bars are still warm). Enjoy!