Brown Butter Chocolate Chip Cookies
Have I mentioned I love sweets?  Well I do and I'll take any excuse to make them.
However, my husband is not a "sweets" person (I know, questionable right?), so he's not a big consumer of my delicious treats.
Unless, we're talking about chocolate chip cookies, then he's all over them.
Sometimes I have to swat him on the hands with my wooden spoon just to keep him from eating all the cookie dough before I get it in the oven.
I've made a few recipes for him to try, but none of them have stacked up to his childhood favorite.
None until I made these babies.  He actually told me these were the BEST cookies I had made so far and that they were even on par with the ones from his childhood.
That made me very happy, but maybe not too surprised because these cookies are delicious.
The original recipe calls for 1 cup of peanut butter chips and 1 cup of chocolate chips, but he doesn't like peanut butter in cookies (he recently told me peanut butter doesn't belong in baked goods, what?!?) so I used all chocolate chips and they were awesome!
I pinned this recipe from here on Let's Dish and in addition to swapping out the peanut butter chips I didn't refrigerate the cookie dough for the suggested 40-50 minutes.  I have read that doing so will heighten the flavor and texture of cookies because it gives the wet ingredients time to soak up the dry ingredients.
Ummm, not happening.
I could never wait that long, so maybe they could've been better. We'll probably never know because I don't see my (or the hubby's) patience level getting better when it comes to cookies.
Anyway, if you want to make some chocolate chip cookies and forgot to put your butter out to get to room temperature, give these a try. You won't be sorry, they are divine!
Brown Butter Chocolate Chip Cookies
Print recipe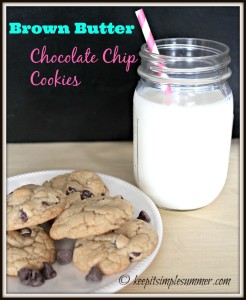 | | |
| --- | --- |
| Prep time | 1 hour |
| Cook time | 30 minutes |
| Total time | 1 hours, 30 minutes |
| Website | Let's Dish |
These classic chocolate chip cookies are soft and chewy in the middle but also have a hit of that nutty, aromatic browned butter flavor that make them extra special.
Ingredients
3/4 cups unsalted butter (sliced)
2 cups flour
1/2 teaspoon soda
1/2 teaspoon baking powder
1/2 teaspoon salt
1 cup brown sugar
1/2 cup white sugar
1 teaspoon vanilla
2 eggs
1 3/4 cup semi-sweet chocolate chips
Note
Bakes approx. 3 dozen
The recipe states that you should refrigerate the dough for 40-50 minutes before baking.  If you can wait that long, you should end up with a thicker, more flavorful cookie (but I have never been able to wait that long).
Directions
In a medium bowl, mix together the flour, baking soda, baking powder and salt. Set aside.
In a large bowl, cream together the sugars and browned butter.
Mix in the vanilla and eggs and beat at medium speed until light and creamy.
Add the dry ingredients and mix until well combined.
Stir in the chocolate chips.
Refrigerate dough for 40-50 minutes.
Preheat oven to 350 degrees.
Drop tablespoons of dough 2 inches apart on an ungreased baking sheets.
Bake for 8-10 minutes, or until cookies are just browned. Cool on pan for 2-3 minutes before removing cookies to a wire rack to cool completely.
Enjoy!
Preheat oven to 350 degrees.