Busy Mom's Easy Green Smoothie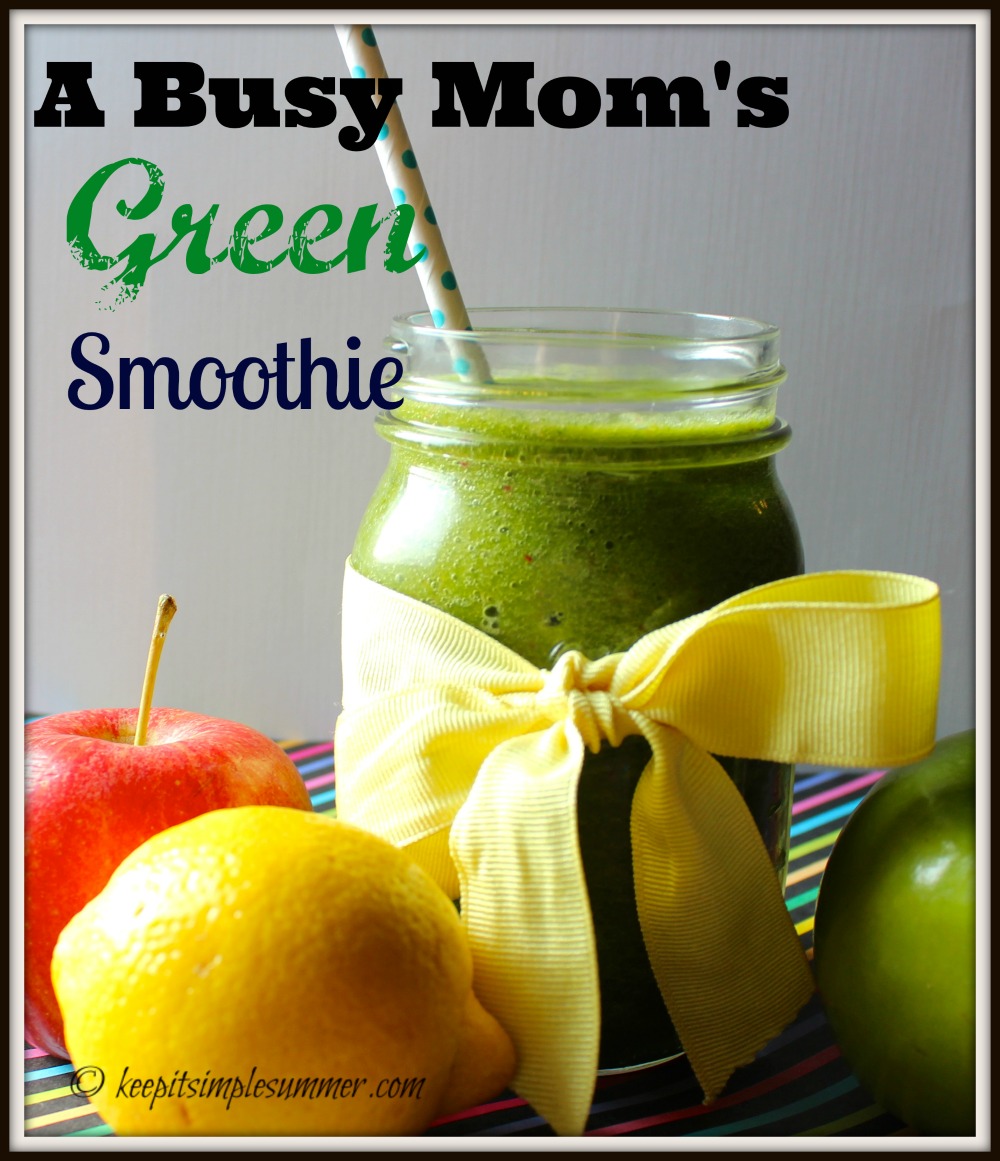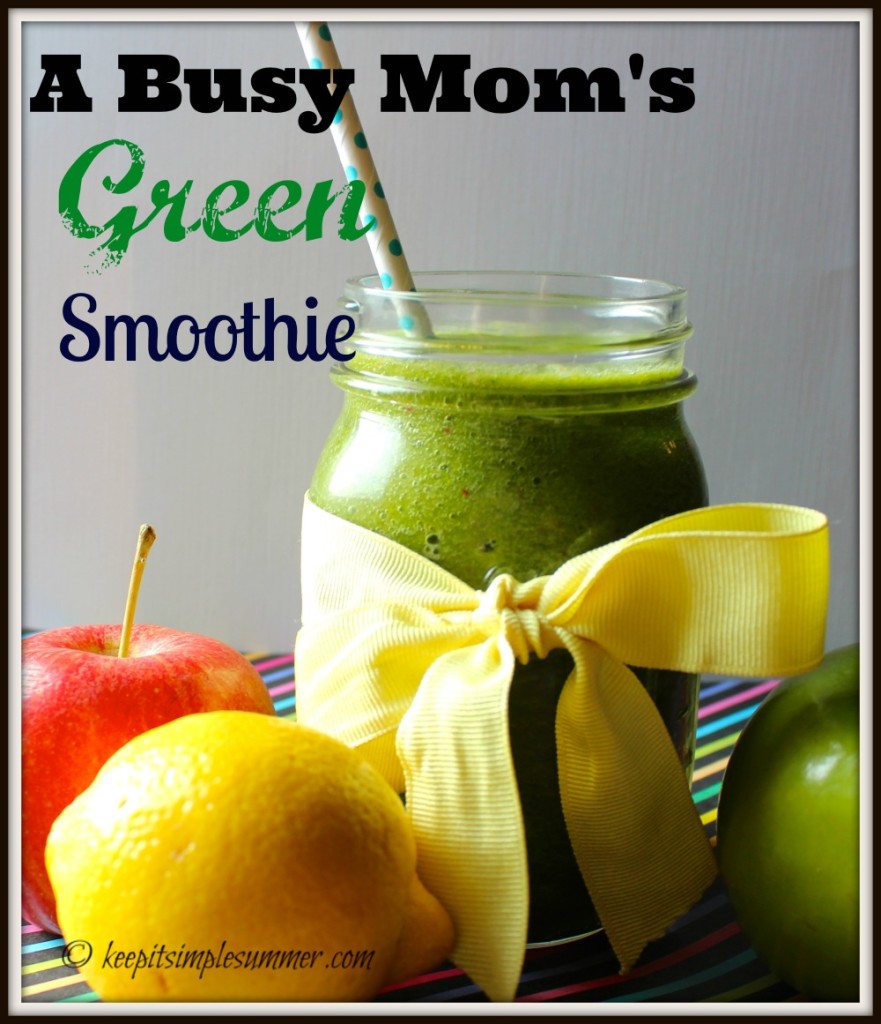 I've never been a smoothie person.
I've attempted yogurt smoothies before, but they just seemed like a pain to make in the morning when it's already chaotic.
Most days I'm just trying to make sure everyone gets to school with shoes and underwear on.
Smoothies were:
full of ingredients I don't always have
took too much time to prepare
too messy to clean up
To be honest, they just seemed like a pain in the arse.
That being said, most of the time my breakfast consisted of water, coffee, and a few bites of whatever leftover food my kids didn't eat.
I decided that's pretty weak.
I'm a grown up now.  I guess I've been one for a while.
I'm raising little people and I make sure they get all their vitamins and eat healthy (most of the time).  I figured I should probably do the same.
So, when I saw this post on The Green Forks blog called My Morning Smoothie and it only had five ingredients, of which I normally have and nothing is expensive (or sending me to the natural foods store), I knew I could make the process easy.
You can stop reading now if you think I'm stating the obvious, but if you're like me, then keep going and you can make it easy too.
I promise.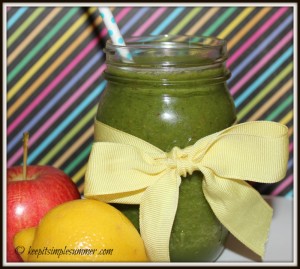 Here's how to do it:
Next time you hit the grocery store, if these items aren't already on your shopping list, add them:
Cucumbers
Spinach – bunch, not the pre-washed kind, it's much cheaper
Strawberries – fresh or frozen, I buy fresh because my kids eat them like crazy
Lemons or lemon juice in the fruit & veggie section
Apples – whatever type you like
Then, the next time you're fixing dinner and chopping stuff up, go ahead and cut the cucumbers into cubes to freeze. I like to portion 1/2 cup into individual bags, but you could put them all into one bag if you want to save on bags.
Pull the stems off the spinach, wash it good, spin off the water in a salad spinner and put it in a ziploc bag in the fridge with a paper towel (to absorb moisture).
Strawberries – you can either wash them and freeze 1/2 cup with your cucumbers, or throw them in when you make the smoothie.  I say freeze them so you have one less step in the morning, you don't need to add ice, and your kids can't eat them all, but that's just me.
OR…….
You can by a bottle of this stuff (or something like it), and not worry about having berries on hand.  Use 1/2 cup of this juice (which is totally yummy) and then the process is even easier.  One bottle of this all natural 100% juice will make 8 green smoothies (32 oz. in total).
Okay, so now it's morning, it's crazy, the kids are going on about their outfit or their shoes, or the lack of glitter somewhere, but at some point you're in the kitchen to make breakfast for the little monsters, excuse me, I mean angels, for the little angels.
Now's your chance.
Have the blender handy, grab your baggie from the freezer, dump it in. Then add 1 handful of spinach (approx., 1 – 1 1/2 cup). Get an apple, core that baby and throw it in.
Okay, by now its been like 20 seconds and in my house that's long enough for something to have happened (or not happened if they are actually supposed to be doing something, like getting dressed) that I have to leave and come back.
That's okay because the frozen stuff can soften up just a little so it's easier to blend.
Once you're back in the kitchen, add a cup of water, squeeze 1/2 your lemon into the mix,  squeeze the other 1/2 into your water cup for the day (because you know that drinking water with a little lemon in it is supposed to be good for you, supposedly, but who doesn't need to drink more water right?)
Blend the smoothie up really good. Pour it in a cup, add a straw (the kind you can throw away), and you're good to go. Only 3 or 4 minutes, tops.
But wait!
Very important, before you leave the kitchen, rinse out the blender. Rinse it out quickly a couple of times so it doesn't have dried smoothie in it 10 hours later that's a pain to get out.
Okay, now you're good to go.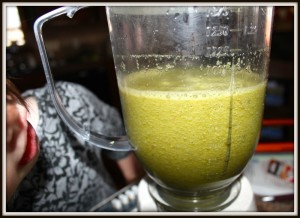 Honestly, I actually like the taste of the smoothie. I mean, it's not a chocolate milkshake, which is what I'd really rather be drinking, but it's good.
It's not really sweet, so if you want, add some Stevia or honey and you could also add a banana.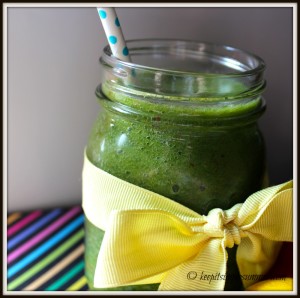 I'm also being honest with you when I say the smoothie won't actually always be "green".
Depending on how big of a handful of spinach you use, type of apple, if you use fresh berries or the juice,  and if you peel your cucumbers and apples (which I don't because that would take more time and I am too lazy for that) the color will vary from bright green to poop brown (sorry, I said I was being honest).
Just drink it.
You'll feel better, get more vitamins, and have more energy.
I really do feel better throughout the day.  I missed my smoothie the other day after having one four days in a row and I could tell the difference.
I timed making the smoothie and it takes less than 4 minutes to make.
We can do 4 minutes.
Can't we?
Busy Mom's Green Smoothie
Print recipe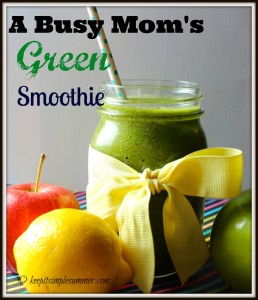 Busy Mom's Healthy Green Smoothie only has 5 simple ingredients that you mostly likely already have in your fridge. Made easy so even a busy mom can blend it up in the morning amidst "getting ready for school" chaos.
Ingredients
1 cup spinach (large handful)
1/2 cup strawberries (fresh or frozen)
1/2 cup cucumbers (frozen)
1 apple (medium size, cored)
1/2 juice of a lemon
1 cup water
Note
Tips:
Freeze the cucumbers and strawberries ahead of time.  Then you won't need to include ice in your smoothie.
Add stevia or honey if you need to sweeten it up a bit.
For an added serving of vegetables, add some celery.
Directions
Add spinach, frozen cucumbers, strawberries (preferably frozen), the cored apple, and the juice of 1/2 lemon to the blender.
Blend ingredients until smooth. Drink, enjoy, and feel great!
Blend ingredients until smooth. Drink, enjoy, and feel great!