Easy DIY Burlap Easter Tree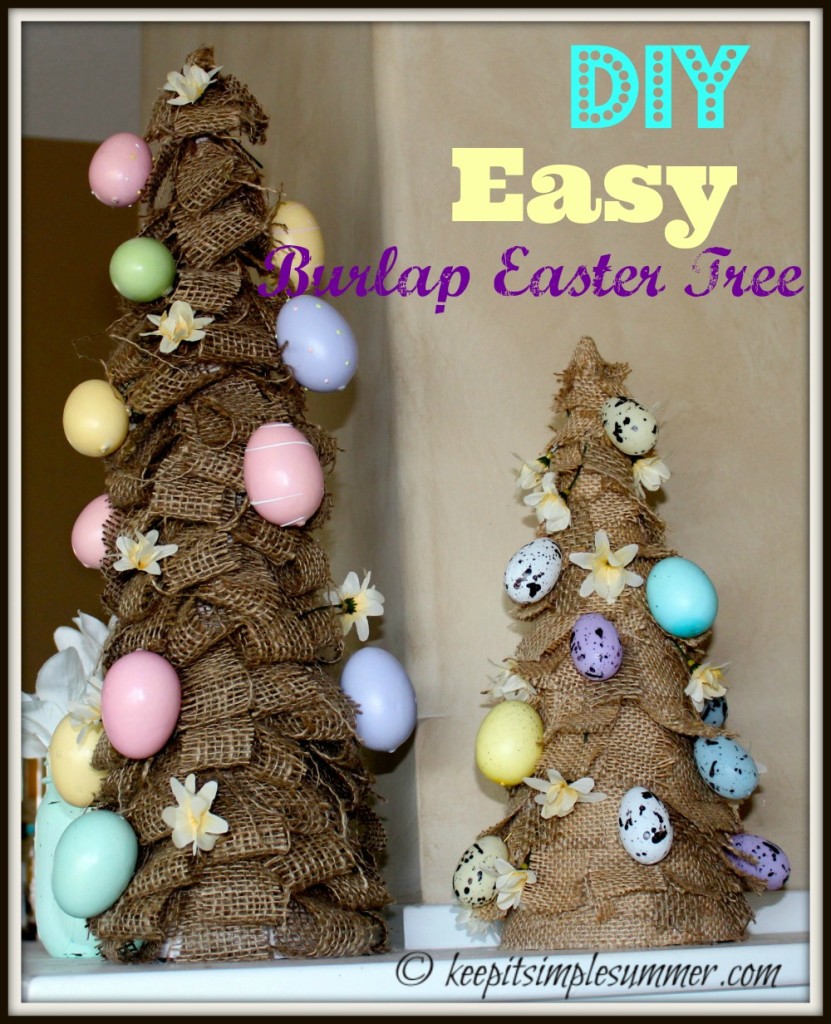 It's Try it Tuesday again and to be honest we needed something easy.  Tabitha and I were both busy trying to get our stuff together for our upcoming garage sale but were determined to still get our craft on.
I had taken a snapshot of an Easter tree at Hobby Lobby that was cute and figured we could make one ourselves pretty easily.  The store price was $29.99 and even with a normal 40% coupon, $18 bucks was still more than I wanted to pay (I guess I am a cheapo).
Luckily, since we had both made burlap Christmas trees during the holidays, we figured we'd just use those instead of making brand new trees (keep reading and you'll find a link to my tutorial if you need to make one).
The total craft took about one hour and the only thing we had to buy were some speckled eggs and a small spring bouquet of fake flowers.  With coupons the craft cost less that $5, or $2.50 for each of us.
Woop woop, cheapos score!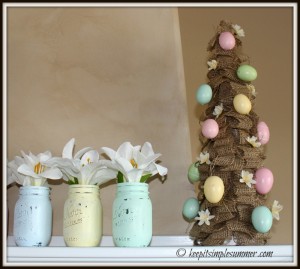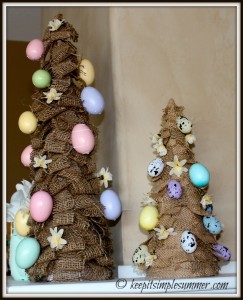 We were pretty happy with ourselves.
We love it when an idea actually works out without any complications or extra trips to the craft store.
Here's how we made our trees:
Get the following supplies:
thin wire
decorative easter eggs
bouquet of flowers with small flowers (your choice of color)
burlap tree (If you don't have a burlap tree, you can go here for my tutorial on how to make one that looks like the second tree in the picture below.  Just follow all of the steps, except leave out anything to do with the gold glitter glue).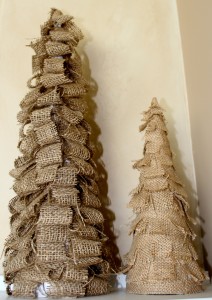 Now the reason that we used wire with this project was because we wanted to be able to keep our burlap trees for Christmas use as well.  To accomplish this we decided to "hook" the eggs onto the burlap rather than glue them, that way we could easily remove them after the holiday.
So, you need to cut some pieces of wire about 2-2 1/2 inches long.  Then just stick one end of the wire into an egg (easier on the styrofoam ones than the plastic ones) and form a hook on the other end.
Next, find where you want to place the egg and hook it up under one of the flaps into a piece of burlap.  Continue doing this all around the tree wherever you want to place your eggs.
When you're done with your eggs, snip off some of the flowers from your bouquet leaving about 1-2 inches of stem, depending how much of the flower to want to show.
Poke the stem up through some of the burlap in the places you want to put a flower. You could also use some small twigs. That would look cool and a little rustic too.
When you're happy with the amount and placement of your eggs and flowers you're done.
Yup, that easy.
Now you can make some Distressed Spring Mason Jars  and your mantel or Easter table decorations will be complete. 

See you next Tuesday,
Summer and Tabitha