Chewy Oatmeal Cookies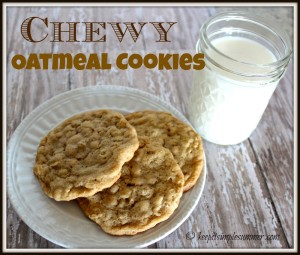 It rained over the weekend so of course I had to bake something. Do you get that urge too?
I found this recipe the other day while scrolling through Pinterest looking for chewy oatmeal cookies.
I love chewy soft cookies and these were perfect.
Try them and let me know what you think, I thought they were pretty amazing! I found them over at Thibeault's table.
Oatmeal cookies
Print recipe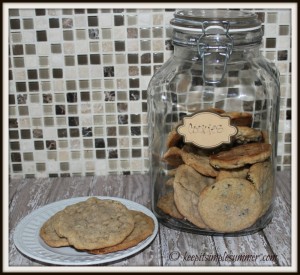 Ingredients
1 cup butter
1 cup sugar
1/2 cup brown sugar (packed)
1 egg
2 teaspoons vanilla
1 2/3 cup flour
3/4 teaspoons baking soda
1/8 teaspoon baking powder
1/4 teaspoon salt
1 teaspoon cinnamon
dash nutmeg
1 1/2 cup rolled oats
Directions
Preheat oven to 350
Cream butter and sugars together until light and fluffy.
Add egg and beat until smooth.
Add vanilla. Combine flour, soda, baking powder, salt, cinnamon and nutmeg.
Stir into butter mixture. Add rolled oats.
Roll into small balls (golf ball size) and flatten with glass dipped in sugar.
Bake 10 to 12 minutes or until bottoms are golden. Cookie should not get brown. Cool on wire rack.