Chocolate Eggs, Crystal Caves, and Bruises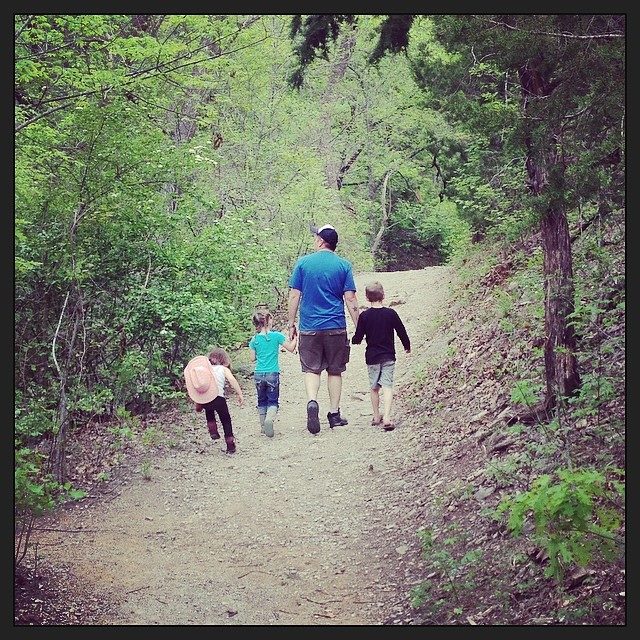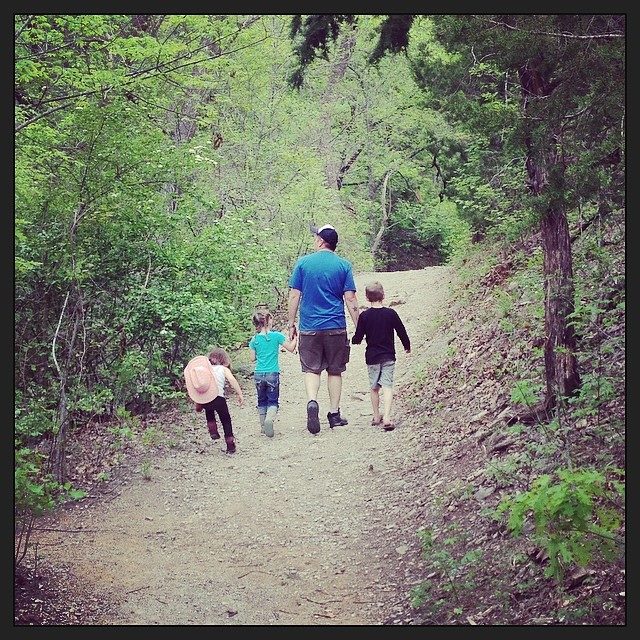 I've got to say this past weekend was one of the best ones in a long time.  The family and I loaded up the bikes, hitched up the trailer, and headed down to Turner Falls, Oklahoma for a long weekend.
We'd been trying to get to this place forever but tornadoes and rain had kept us away.  Luckily when we showed up we were the only ones in the 48 space RV site area so we had our pick of the lot and it was awesome (it didn't stay that way forever, but it was nice while it lasted).
I just have to get some memories down before I forget them.
We had stories by the campfire the first night. The kids started them and were telling the cutest "scary" stories where many people were lost in the forest and then everyone died.  When they passed the flashlight to me and told me to tell a story that was scary, but not too scary, I told them about the time I had to clean the bathroom and I opened the door and there was pee everywhere. They thought that was pretty funny and laughed.
The next day Grandma and Grandpa headed in bright and early and we headed over to the river and waterfall area.  The waterfall was beautiful and even though this lameo mom didn't bring bathing suits the kids still managed to get into the water and have fun.  I was proud of Cormac for getting out of his comfort zone and getting in the water even though it wasn't totally warm and he didn't have "his gear".  He was in there for a long time looking for fish.
Indies on the other hand freaked out when she realized their were tadpoles in the water (after she stood still long enough to see them).  It was hilarious, she thought they were going to attack her feet.
When we left, everybody was wet, dirty, and had sand in all the wrong places, just how it should be after a trip to the beach.
The next day we went to Cross Bar Ranch, a riding park, and while 99% of the people there were riding ATV's, we had our dirt bikes and I had the two most patient people in the world to look after me as I took on what seemed to me the hardest 14 mile course ever. It was super rocky and curvy and there was even a little mud.  I think I crashed, stalled, dropped, or wheelied The Huntress about 100 times but it was soooooo fun.  I don't know how fun it was for Kevin and Grandpa who patiently went at a much slower pace and helped me pick up my bike……..a lot, but I definitely got better.  No injuries, just a bruised up hand and shin……but a reminder that I'm old and need to get in better shape.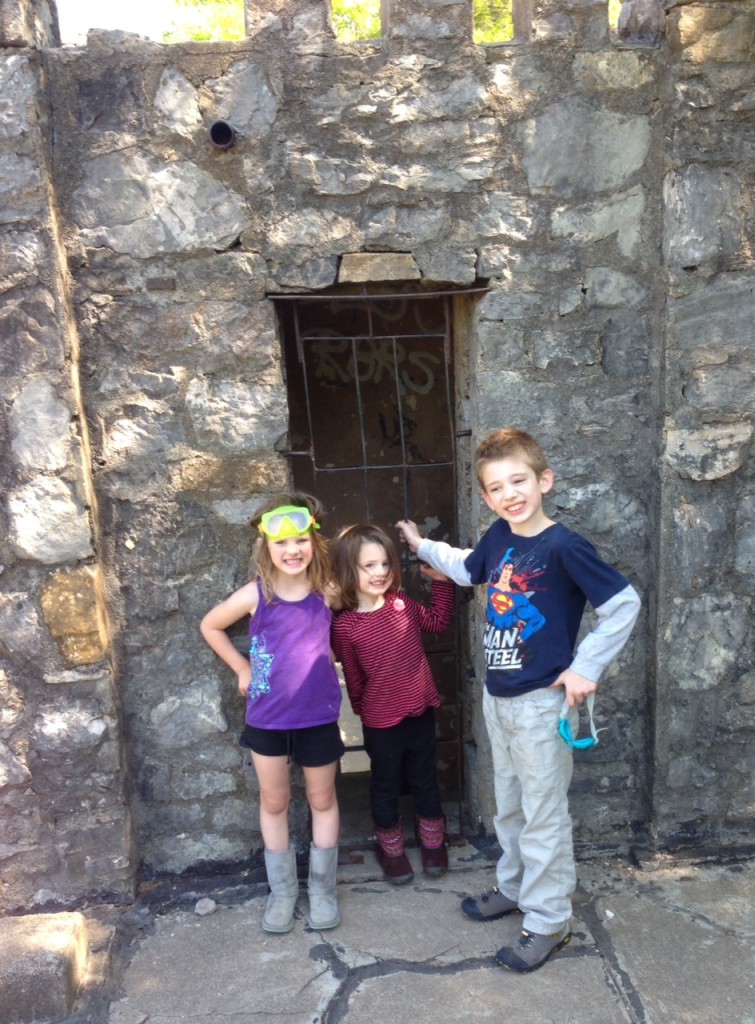 Later in the day we went on the hunt for the elusive "Crystal Cave" that was supposed to be around the waterfall area, but is kind of hard to find.  We set out as a family and hiked a short way over some streams and finally dead ended into what looked like something out of The Hobbit. There was a big low hanging tree with all of its roots exposed and a spring surround by rocks.  None of that mattered to Indies though when she really had to go to the bathroom and had no trouble making that happen in front of all of us.  I'm glad she's finally potty trained, but that girl is crazy. I've never seen pee shoot out that direction from a girl before and it was very memorable to say the least.
Cormac was super disappointed that we didn't find the Crystal Cave, but Dad and the kids walked the long way back to camp going up these really cool steep stone steps that connect to this old castle they have you can walk around in. Once again, Indies took front stage when she took her life in her hands and walked on a high wall with a 80 foot drop while Kevin turned his head for a split second.  I'm just glad I wasn't there to freak out.
We had some great neighbors from Dallas that we shared a campfire with for two nights.  The second night they introduced us to the "smoreo", which is a roasted marshmallow in-between an Oreo.  It was pretty delicious and the kiddos had a lot of fun using their sticks that Grandpa had made for them in the fire.  Cella also decided that the neighbors 5 yr old son was the cutest and wanted dad to take them for a walk in the forest. I'm going to have to talk to that girl, I don't know where she gets these ideas.
Finally, it was Easter morning. The Easter bunny came and remembered to bring the kiddos baskets and hid some eggs for them. They managed to eat a good majority of their candy right away, which was okay because it left the majority of the bacon and eggs that Grandma fixed for the adults.  It was delicious (as camping food always is) and a perfect Easter meal.
Then we had to pack up and leave, just missing the rain.
Back to reality, poop.  But it was fun.
Maybe a new Easter tradition.