Chewy M&M Cookie Bars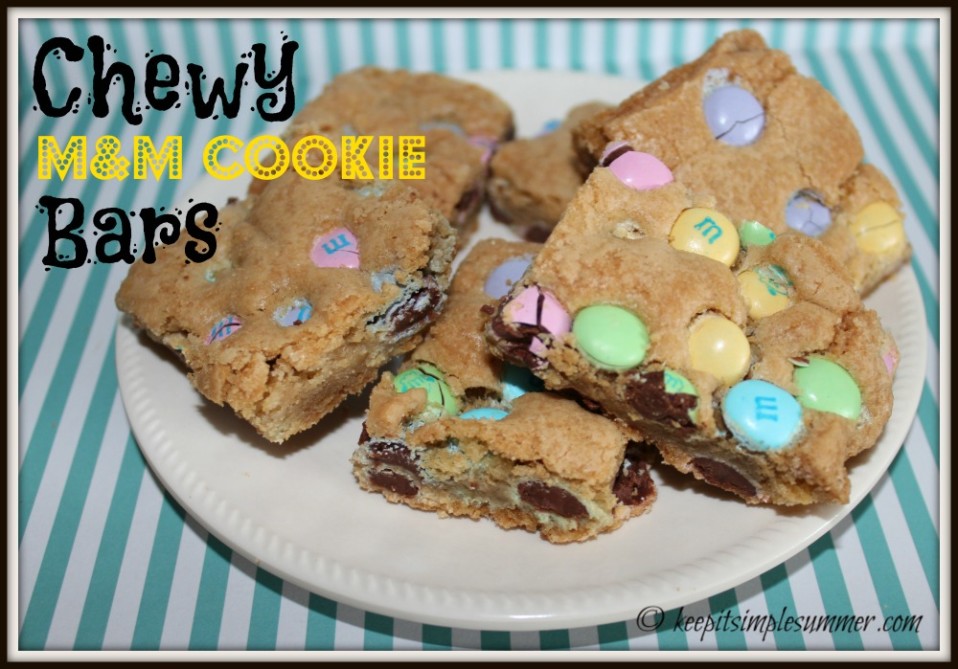 So the kids were asking me to make cookies, but gosh darn it, sometimes I am just…..too….tired (or lazy) to get up and go to the oven multiple times to take out and put in all the batches that one recipe makes.
What's a tired mom to do?
Make these delicious, easy, one batch Chewy M&M Cookie Bars of course.
They are delicious, fast, and if you don't have M&Ms or don't like them (as my five year old has just recently decided so now I'm questioning if she's biologically mine) you can just substitute chocolate chips, Reese Pieces or whatever else you can come up with.
I'm pretty easy to please, if it has sugar & chocolate, I'll eat it and love it, as long as it isn't burned.
My husband, on the other hand, who only likes normal chocolate chip cookies (who is always asking for me to just make normal, old-fashioned chocolate chip cookies) is harder to please, When he ate three of these in a couple of days and then whined when they were gone, I knew we had a winner.
Thanks so much to Christine at Fantastic Family Favorites for the recipe.
The other bonus is that you line the pan with foils, so you only have the bowl and the mixing bowl to clean.  Now we're really making progress!
Time to bake, eat, and enjoy!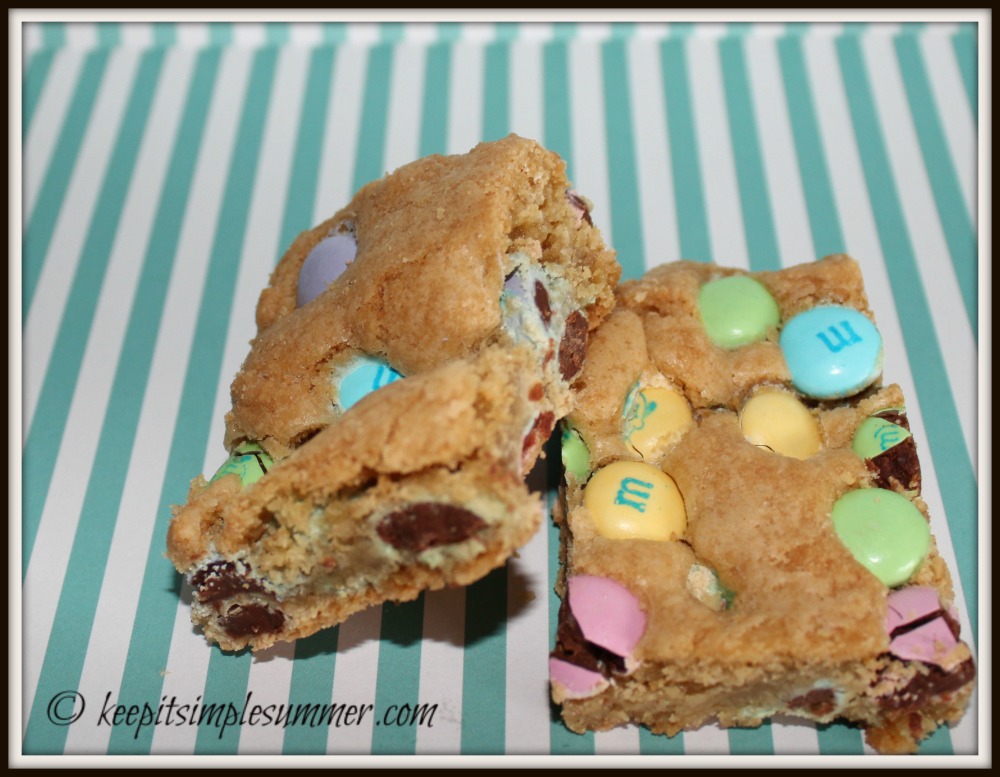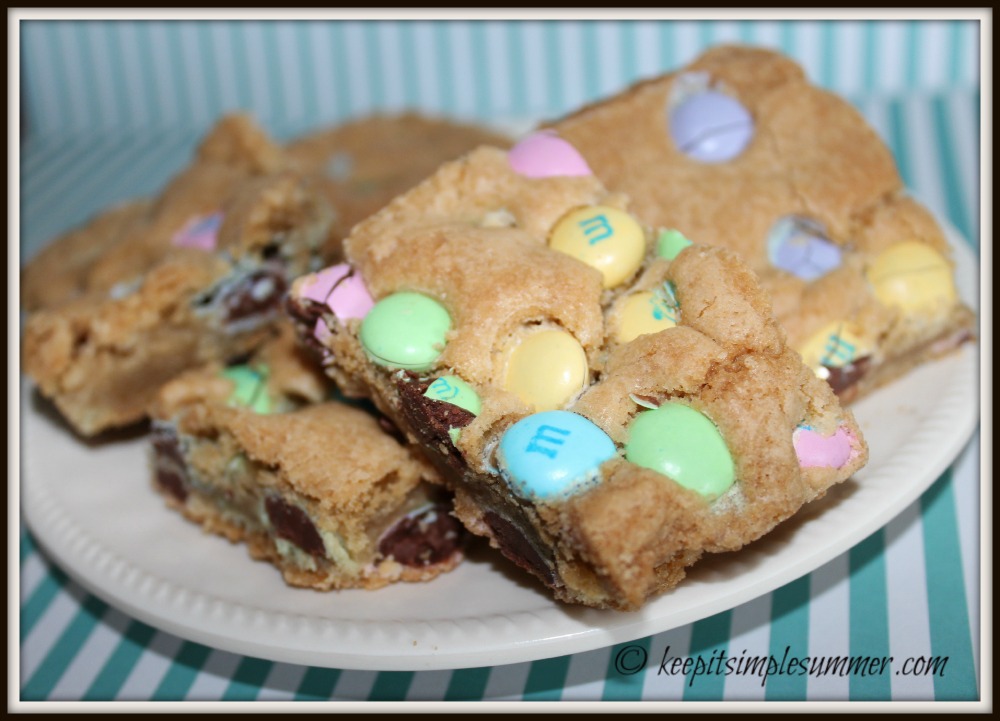 Chewy M&M Cookie Bars
Print recipe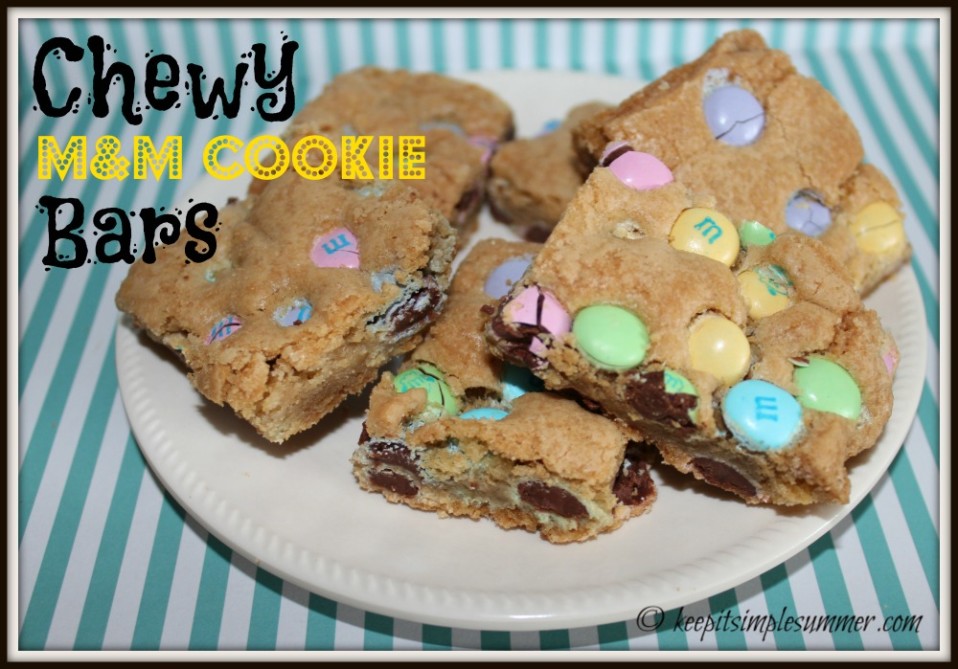 These bars are super easy, super chewy, and you can substitute the M&Ms for any other morsel you might want to use. Yummy!
Ingredients
2 1/2 cups flour
1/2 teaspoon salt
1/2 Teaspoon baking soda
12 Tablespoons melted butter, cooled slightly (1 1/2 sticks)
1 Cup brown sugar
1/2 Cup white sugar
1 Large egg
1 Large egg yolk
2 Teaspoons vanilla extract
1 12 ounce bag M&Ms (divided)
Directions
Preheat the oven to 325 degrees. Adjust the oven rack to lower-middle position. Line a 9X13-inch baking pan with foil, letting the excess hang over the edges of the pan by about 1 inch so you can grab those edges and pull the bars from the pan after they have baked. Spray the foil-lined pan with nonstick cooking spray.
Mix the flour, salt, and baking soda together in medium bowl; set aside. Whisk the melted butter and sugars in a large bowl until combined. Add the egg, egg yolk, and vanilla and mix well. Using a rubber spatula, fold the dry ingredients into the egg mixture until just combined; do not overmix. Fold in 1 cup of M&M's and turn the batter into the prepared pan, smoothing the top with the spatula. Sprinkle remaining M&M's on top and press in slightly.
Bake until the top of the bars is light golden brown, slightly firm to the touch, and edges start pulling away from sides of pan, 25-30 minutes.
Cool on a wire rack to room temperature. Remove the bars from the pan by lifting the foil overhang and transfer them to a cutting board. Cut into squares and serve. Enjoy!