My Pale Girl Tan – Tanwise Sunless Lotion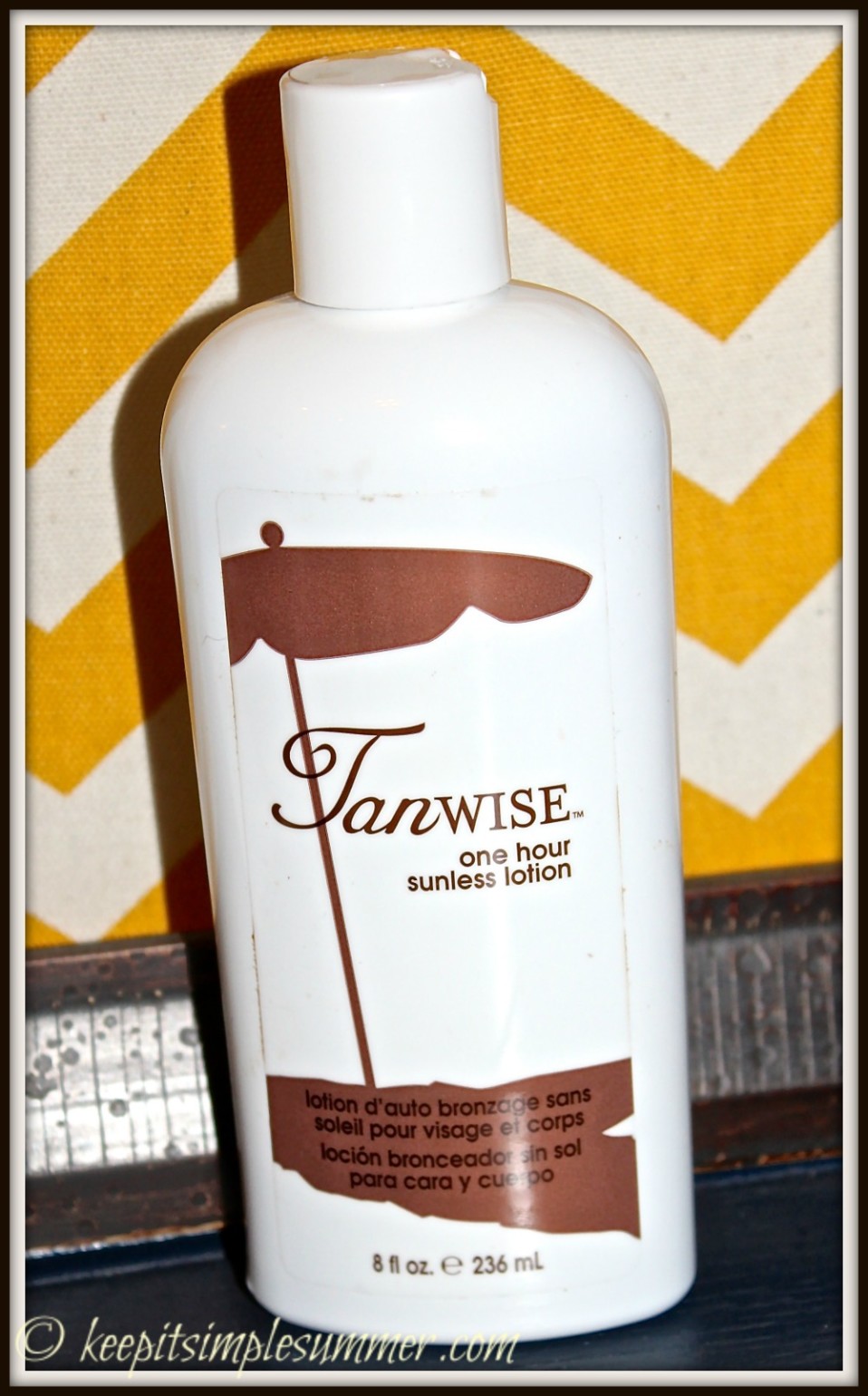 I'm pale. My sister is tan, my brother is tan, but I drew the short stick when it came to skin color and I got the pale, easy burn, how about a million freckles instead of a tan, skin.
It took me quite a long time to realize that I wasn't going to tan.
A really long time.
A really really long time.
I'm slow that way and I have a back full of sunburn induced freckles to prove it.
Anyway, like most gals, I like to have a little tan during the Summer as to not make people think I'm a Cullen and to be honest, most legs do look better when they have a little tan on them.
Recently, I was looking around Pinterest for some reviews on self-tanners and I found a few brands I hadn't seen before.
The brand that caught my eye was called Tanwise, sold at Sally Beauty Supply.  The reason it did was because it wasn't a billion dollars, wasn't supposed to have that awful "Hey, I just applied fake tanner" smell, and people seemed to really like it.
I was all in, figuring that if it didn't work, at least I wouldn't be out 3 months of Sugar-free Vanilla lattes.  The review and write-up here also helped convince me (although she uses the mousse not the lotion).
First off, let me say I've never been a fan of self-tanners because I think they're a pain to remember to put on.  I can't even remember to put lotion on, so trying to remember to apply self-tanner everyday to build up a tan isn't going to happen.
Secondly, I always did a bad job applying it (because I'm a little impatient) and got splotches everywhere. I'm sure I'm not the only one who's experienced that cool look.
Third and maybe most important, I never appreciated the smell. Pretty much all of the tanners I tried, and I'll be honest I've never spent more than $25 on one, just had that weird fake tanning lotion smell.  Kinda of like some part of me had been cooked in the oven.
That being said, this stuff worked different.  The lotion was surprisingly (and a little frighteningly at first) dark, so it's pretty easy to see where you've put it on (don't worry, it lightens up).  I think I also improved my process a little because I applied it right after I got out of the shower, after I was sure to put on lotion/body oil and I only have to apply it once or twice a week.  The stuff seems to last a good three or four days for me, which is great by my standards (I would suggest that when you apply it you wear gloves, a mitt, or wash your hands in between applications to limbs.)
Additionally, Tanwise really doesn't smell like fake tanner.  Honestly! It actually doesn't really have a significant scent at all.  Bonus!!
When I went to Sally's, they were out of the mousse, so that's why I got the lotion. There's also a face gel of the same brand that has gotten good reviews.
As of yet, I've only used the lotion on my legs because my arms, face, and shoulders get enough sun when I'm doing yard work.  I don't see my back, so I don't care about it, but if you do, I know there are wands you can buy to help you apply product to your back if you want a good all over tan.
Anyway, if you're looking for a sunless tan I'd consider giving this stuff a try.  It's worked really well for this pale girl and for $11 bucks for a 8 oz. bottle you might as well give it a shot.  You can also order it on Amazon and I'm sure other places too.
Happy tanning,
Summer