DIY Hose Storage Box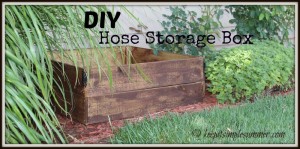 I have a little problem.
Some might say it's an issue, but whatever.
I like things to have a place. A place to be, to be put away, hid, to reside, whatever.
Things should at least appear to be organized and well-kept, even if they're really not.
At least in my little mind.
Case in point, we had this ridiculously long hose on the side of our house that just laid on the ground all tangled up.  Half the time some of it would be in the grass, some in the flower bed, dirty, not curled up nicely, just a mess.
The kids would play with the water during the summer and just leave it in the grass and my husband was no better when he was pressure washing or washing his car.
It made my head hurt a little and pushed at my "mom's going to lose it" button.
"Why not get one of those hose reels, or a wall mounted holder of some sort?" you say.  "What about a nice hose pot?" you suggest.
Well all of those might work if someone actually took the time to reel the hose all the way back in, if it actually fit since it's so unnecessarily long.
I did look into getting a hose pot because some are really pretty, but had a hard time shelling out $40 or more just for something to throw an annoying piece of rubber tubing in.
So, as with most things, my annoyance level had finally hit the danger zone and I was pushed into action.
An idea popped into my head one day while I was at Lowe's shopping for flowers.  I saw the fence wood, how cheap it was (only a couple of bucks), and my Hose Storage Box was born.
Since I'm no master craftsman, I'm pretty happy with how my last minute, figure it out as I went, idea turned out.
My husband, who normally doesn't have much to say about my DIY projects, commented that he liked this project, so with two people pleased and my hose irritation solved I am one happy camper.
The box is big enough that even my kids can haul the hose back to the side of the house and chuck it in.
Now, there's no excuse for me to find the hose strewn all over the yard.  If I do, someone's going to hear me roar…..and it won't be the Katy Perry kind.
We all know we don't want that, so lets keep the hose in the box people.
I've made it easy for you……okay?
Here's how I made my DIY Hose Storage Box if you want to make one too:
Supplies
Nails or wood screws
Wood glue
8 equal pieces of fence wood (mine were 1/2 x 5 1/2) and 4 pieces of smaller scrap wood. I used some 1 x 1 1/2's that I had laying around, I think it was pine
Sandpaper
Stain or paint
I started by deciding how big I wanted my box to be.  After cutting the angled top off, I cut each piece to be 30″ long.  I figured I would just make the box as big as I could. Depending on how big you want your box, you could increase or decrease the length.
You'll also need four even pieces of wood to frame the box for stability.  I used wood that was 1 x 1 1/2 and then cut the length to be 11″ long (the height of two 30″ pieces stacked vertically).
Begrudgingly, I sanded one side of the boards down because I knew I wanted to stain them…..but only one side 'cause I'm lazy, it was hot that day, and I don't really care what the inside of the box looks like.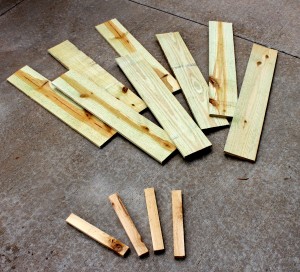 Next, I attached the four smaller pieces of wood to the long pieces using wood glue and nails like so: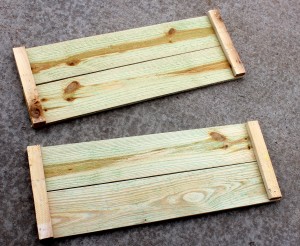 When these two sides were finished, I completed the square by adding the other sides, stacking the remaining wood two pieces high, gluing, and nailing into the large pieces already completed. Clamping the corners together helped make this process easier, but you could still assemble the box without clamps. 
Luckily my husband got me a corner clamp for Christmas. This was the first time I got to use it and I was stoked.  It's amazing how much easier things are when you have the right tools (but don't tell my hubby I said that).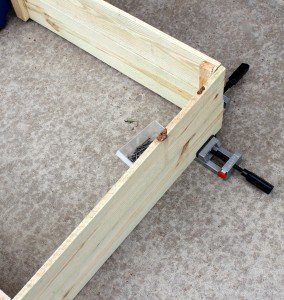 Once the glue dries, stain or paint the box whatever color strikes your fancy and you're good to go.
I stained mine with Rust-Oleum Ultimate Wood Stain in Dark Walnut and coated it with a exterior varnish topcoat to help protect it from the elements.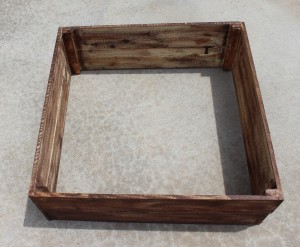 Now, place your DIY Hose Storage Box in the area where you would like to keep your hose from becoming a tangled mess.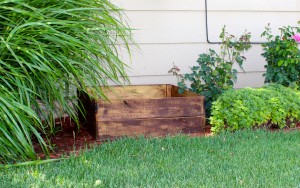 Boom.  Done.  Next……?