Easy Cinnamon Roll Cake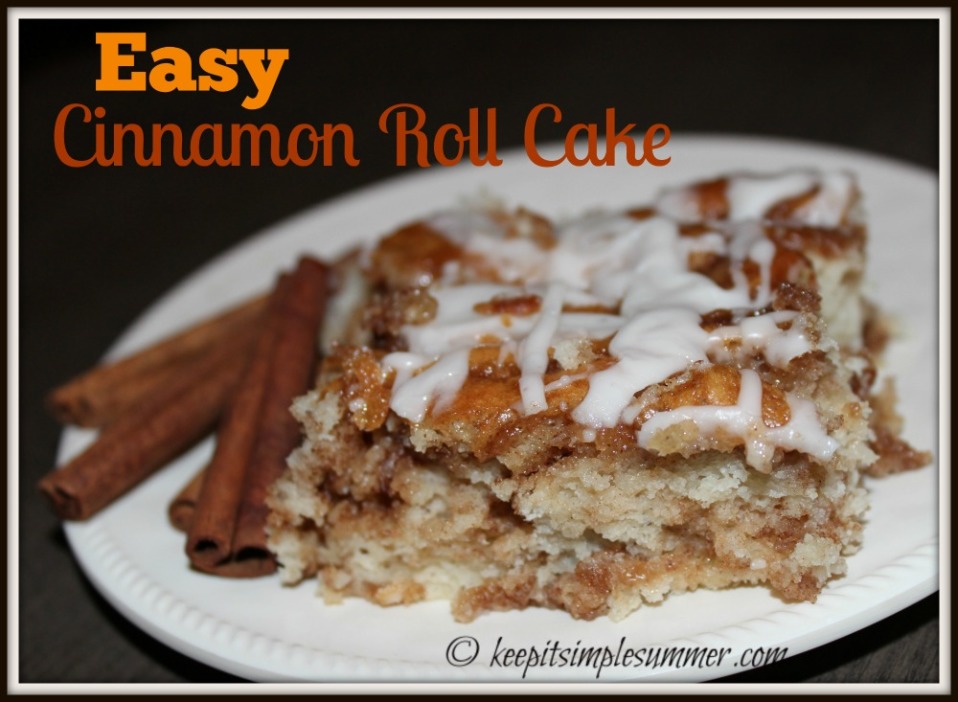 By now, if you follow my recipes, I don't need to put the word "Easy" in the title because you already know in order for me to bake it, it has to be easy.
But, in the hope that a newbie tries the recipe and isn't familiar with my way of life, I will keep "easy" in the title.
In my opinion, there's nothing better than starting out the morning with a big, gooey, frosting covered cinnamon roll and a huge cup of coffee, but since reality, my behind and my conscience can't quite manage that on an everyday basis we stick to that game plan only on special occasions.  On other days, if the pack of hungry wolves, frothing at the mouth in the kitchen can wait long enough for it to bake, I like to make this yummy cake.
It is NOT a big, gooey, frosting covered cinnamon roll….but it's a good stand-in and pretty damn delicious.  It also can be made and consumed in under an hour, much less time than it takes to make a cinnamon roll. Pretty good substitute, even by my standards.
AND, for all you health conscious people out there, I want you to know that I have adjusted my own recipe to use applesauce instead of oil, egg whites instead of whole eggs, and only one stick of butter when the original recipe I used called for two.  So suck it saturated fat and cholesterol!
Happy New Year folks!!  This is practically a diet food with all my adjustments to the original recipes.  You're welcome, much love! xxoo
Note: My recipe is a hybrid of two recipes, one from Six Sisters Stuff found here and one from My Recipe Magic found here.
Easy Cinnamon Roll Cake
Print recipe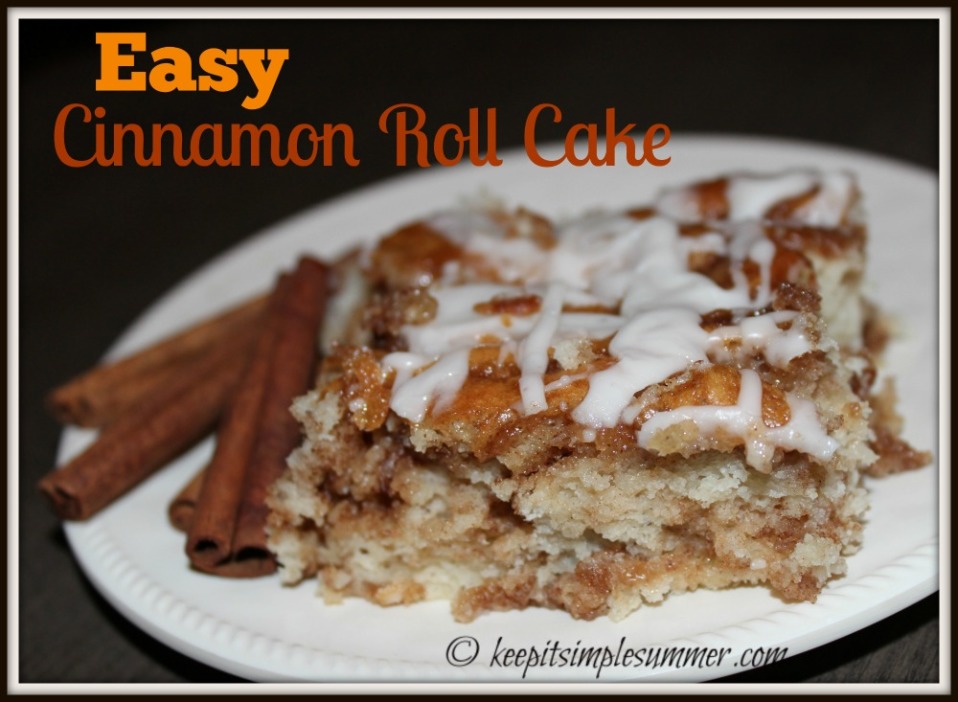 | | |
| --- | --- |
| Serves | 12 |
| Prep time | 10 minutes |
| Cook time | 30 minutes |
| Total time | 40 minutes |
Super fast and easy cake with all the flavor of a cinnamon roll without all the work. Tastes so good straight from the oven you might not have much left for breakfast the next day.
Ingredients
1 box white cake mix (15-16 oz.)
1 Small unsweetened applesauce (Individual serving size)
1/2 cup butter (1 stick, softened)
1 cup brown sugar
1 tablespoon ground cinnamon
1 teaspoon vanilla
5 tablespoons milk
2 cups powdered sugar
Directions
Preheat oven to 350 degrees. Spray 9×13 baking pan.
Prepare cake mix as directed on the back of the box omitting oil and replacing with applesauce. You can also use egg whites instead of the entire egg. (If you do that add 1 additional egg white to the amount called for on the box).
Pour batter into a greased baking pan.
In a separate bowl, combine butter, brown sugar, and cinnamon. (Mixture will be easier to mix if you zap it in the microwave for a few seconds, no longer than 10, to get the butter really soft)
Pour the mixture evenly over cake batter and use a knife to marble/swirl through the cake.
Bake at 350 degrees for 25-30 minutes or until toothpick comes out nearly clean from center.
Place powdered sugar and vanilla in a large bowl. Slowly add milk and whisk until smooth. Drizzle over warm cake when it comes out of the oven. Enjoy!!