Please don't make me get out of bed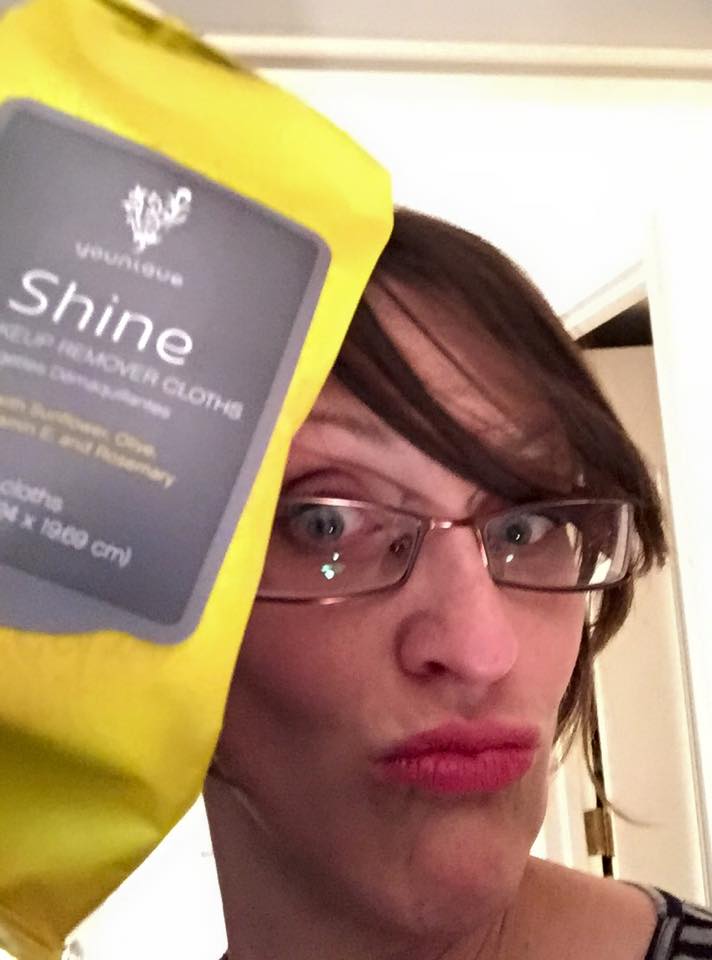 I admit it, I'm lazy…….when it comes to taking off my makeup. I always used to forget and then I would be in bed and there was no way I was going to get out of my comfy cocoon of blankets.
As a result, I would wake up with raccoon eyes and apparently my face wasn't getting the rejuvenation it needed. Yes, I read that somewhere, that your face needs to be able to breathe at night so it can go through a renewal process.
Oops.
Well those days (ok nights really) are over people! I'm addicted to our new Shine Eye Makeup Remover Cloths. Yup, they're called "cloths", not wipes.  Wipes are for babies bottoms, wipes are for getting food off my kids body, they're even for cleaning up around the house (oh come on, I know you do it too), BUT they're not for removing makeup! These new Shine cloths are what it's all about!
Shine Eye Makeup Remover Cloths are totally moisturizing and leave my skin feeling like I don't even need to put my nighttime "please stop the coming wrinkles" moisturizer on.  Apparently they are full of sunflower, olive, jojaba, Vitamin E, and rosemary, but I really feel like they are full of bliss.  Bliss because I don't have to get my bootie out of bed to wash my face and it's still getting what it needs.
Now, hold on to your panties…..for a pack of 36 cloths, the cost is $20.
Wait, wait, take a deep breath, keep it together!!  I know what you're thinking.  When I heard the cost I thought no way mamma!  That's way more than what I used to spend at Walmart for makeup remover WIPES, but there's a difference and you WILL notice it.  Once you start using them you will understand these babies aren't just for taking off your makeup, they're for making your face feel refreshed, nourished, and amazing.
Try these new Shine Cloths for 14 days.  Younique has their 14 Day Love It Guarantee so you have nothing to lose.  You might even "gain" something, like more sleep and softer skin.
Sweet dreams,
XOXO Summer
For more info go to www.keepitsimplesummerlashes.com