DIY Decorative Candle Holders
I had this bare spot on my entertainment center, so I decided to make something with candles. (However, once I was finished with them they didn't look good there, so I have them on my fireplace mantel). I don't really have many around the house, so I figured that would be easy enough to do.
I ran to Michaels, bought 2 different sized glass jars, which were on sale of course. I had this idea to take the hemp cord that I made the vase with and wrap it around the glass jars. Then, I wanted to add something so it wouldn't be too plain. I went to the jewelry aisle thinking I would look for some elephant pendant to go with the suttle animal theme in my living room. I couldn't find one I liked, but I found the bracelet pendants and I found a bible verse I liked so I got them along with some crosses and this teal bracelet band material.
My first step was to wrap the jars. I took my hot glue gun and dabbed a small spot on the jar and started wrapping the hemp cord around the jar. I eyeballed how far up I wanted to go and pulled the cord tight and then hot glued another spot for the end of the cord. I then strung on my pendants on the teal band material, wrapped and tied to the middle of my hemp cord. Almost done… I grabbed a bag of dollar store rocks and put half in one jar, half in the other.
All I then needed was 2 candles. First, I bought 2 at Michaels, then I thought why aren't I buying these at the dollar store, so one day when I was getting supplies for another project I returned the candles. I went to the dollar store and they don't sell tall candles…geez.  I went back to Michaels. I think the gas money cost me more than my project. What do you do?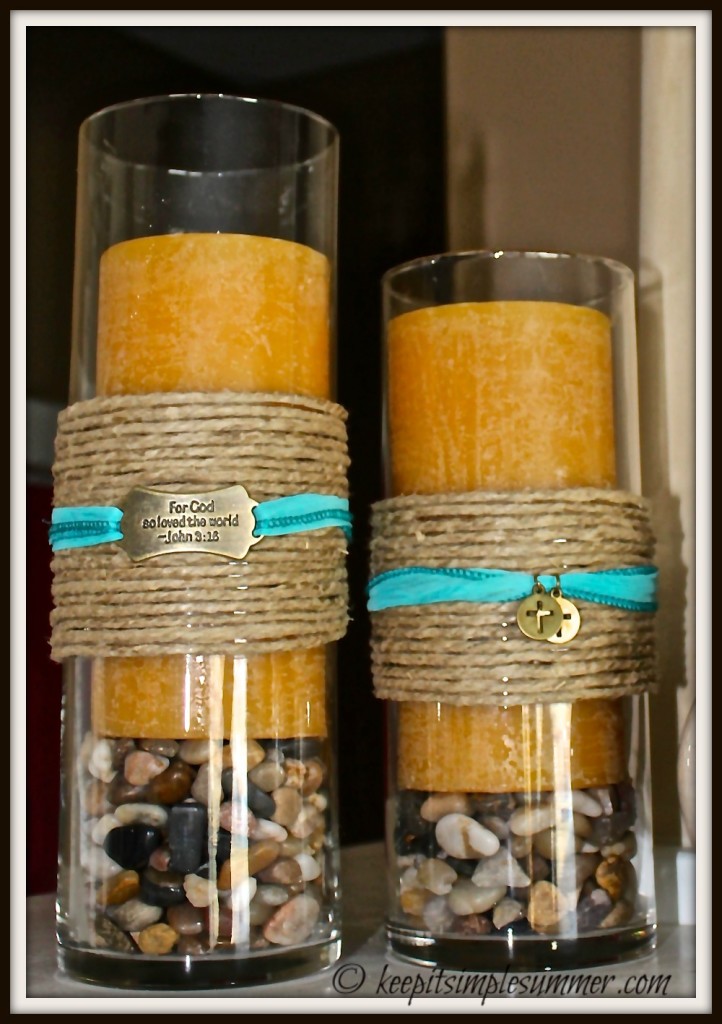 Tabitha